Today I made a commitment. Well, a quasi commitment to "
29 Faces in May
." I was lovingly consumed with artful creating this past winter and I sense no end in sight. Artful expression has been a longstanding Medicine for me … ever since childhood. When my college years came along, I wanted to go to an art school, but that wasn't an option (or so I accepted at the time), but that's another story altogether.
One of my artful goals is to create more goddess imagery, so the feminine face is something I want to get better at. The above image, from my "Elements" journal, was my first attempt (in recent history) at a simple, stylized feminine face, totally inspired by
Effy Wild
. I've done a few more, and some I like, others were recycled, but a challenge of "
29 Faces in May
" will surely offer me some disciplined practice that is sure to enhance my current abilities.
May will be busy for me, and I'll be extremely happy if I actually execute
29 Faces
. But I'm up for the challenge and look forward to the act of creating alongside an inspired group of fab folks!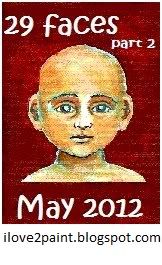 So, yeah, that's what I made today. A quasi commitment.
Peace.